I am posting this thread to inform you of some important information.

The RKONetwork is now under new ownership, Internal will be looking after and making the server as good as ever to ensure you, the players get the best experience.

Now for the server info:

The release date is not yet known but it will be told to you as soon as possible.
On release there will be a 65% off sale which will last for a week.
All ranks previously bought will be kept
F Top Rewards are as follow,
$100 PayPal for Top Faction
$50 PayPal for 2nd Faction
$50 Buycraft for 3rd Faction

We hope to see you on the RKONetwork

Regards, the RKOnetwork management team.
Hello everyone!
|

Introduction
My name is Alec, but I typically go by Projecki (which is my IGN). I've been owning servers for some time now, and I've been following Hammer Kingdoms and RKO since they were created. I hope to get to know you all!
|
RKO - What's planned
I want to return RKO to its roots - the premier factions experience. Factions will be our primary focus heading into the new season. We'll be working on an entirely new setup - new builds, new custom plugins, new features. RKO will once again become the go to place, the factions server you all deserve. I want to hear from you guys, the community, about what you liked and disliked about RKO in the past. I'll be bringing on my own trusted developers to make sure what you guys want becomes a reality!

|
Conclusion

If you would like to contact me directly, you can do so by joining our discord and throwing me a message:
https://discord.gg/tmwsHpa

There is not an estimated time for our release right now, that will depend on how custom we'd like to make the server, and what you guys want to be added. Please do message me or post on this thread your ideas and likes/dislikes of RKO!

Thanks,
Alec
Good Evening RKO Players!
I'm proud to announce that as of right now, yes, RIGHT NOW! the whitelist on the server is now off
and we're ready to kick off everything for, yes, you know it! Season Two! Now, since Season Two there has been some updates, including Quests (Adding More In The Future), Daily Rewards, and many, and I do say, MANY Bug fixes! We hope this launch will be our least buggy and most successful launch we've had this time! A few things to go over.

Bans

First we have, that if you have been banned then you'll be seeing an unban on the server, but if you have been blacklisted or have charged back you will not be seeing an unbanning in your future.

Purchases

Secondly all purchased items will be handed back to you, if you didn't receive your purchased item please contact Xyist along with the following details, What did you get: When did you get it: and Proof of purchase: thank you.

Bugs

Next we have, if you do encounter a bug, please report it to a staff member and you will most likely receive a prize due to the severity of the bug.

Faction Top Rewards

F Top Rewards are as follow,
$100 PayPal for Top Faction
$50 PayPal for 2nd Faction
$50 Buycraft for 3rd Faction

Buycraft Sale

There will be a 60% sale in our store for all purchases within a week of the server releasing, that means that $100 item you've been looking forward to will only be $40! Crazy right? Of course there's no actual $100 in game item, but, it's for simplification!

Raiding
Raiding will be enabled 8/5/17
This means that you cannot raid any bases until then, TNT and explosions will be disabled until that date!

That's all, hopefully the server will go accordingly to everyone, and have a great day!​
Good Evening RKO Members!
Today I'm here to inform you guys that today has officially been the day that we are starting on Beta week. This means by at this current date, staff members will be working on improving the server of it's flaws to make sure that everything is going well. But this also means that you, the players can enjoy the server while we're fixing things and really get a feel back for the server. As previously stated in the last announcement, Beta week is going from today till the 21st (Friday). During this Beta week you'll see many things change and many bugs fixed. We'll be adding more things to the server and improving on the servers weak points.

Again, we'll be resetting any bans on anyone that has been banned from last season (not including people that have been blacklisted) and giving back donor ranks/items to players that have purchased it or has received it via vouch, etc. Whitelist has also been turned off so that now you can connect to the server. Season Two Will be starting at the 22nd (Saturday) at 1 PM EST.

Looking forward to keeping all of you updated, and enjoy the server.
Thank you​
Good evening players of RKO Network, we're proud to announce after all the troubles we will be shifting our gears into, yes, the long awaited Season 2! Exciting stuff huh? Now, to make sure everything goes smoothly and accordingly we will be hitting into another Beta Week. Starting officially on the 17th we will be working to kick off season two will all the bad bugs all clear for players. Ending on the 21nd we aim to make sure that season two is the most stable, and all those pesky little bugs are gone for good.

Season two will also commence advertising, from YouTubers ranging 5k to 100k to Anything that will spread this server across the community. Since we'll be in beta week fixing bugs we look forward to Limiting any resets and or backups that might occur, so expect your precious diamonds still there! There will be one more reset prior to Season Two, but top factions/top voters will receive rewards although due to Season One being shortened the rewards Have been limited though will be in full effect season two. Top Faction will receive a voucher and will be privately messaged by the owner to discuss on what that might be.

Bans have been lifted for the next season although if you are blacklisted you will not be receiving an unban. If you donated, Don't worry at all! You'll be seeing your precious items as well as ranks starting Season Two (the 29th).

Please understand that this was a learning experience for all of us, and we plan to make season two, bigger, better, greater, and more fantastical! Have an amazing day!​
Are you ready for the battle of your life,
One Faction will walk away in this all out brawl, will that be yours?
Hello! I'm Xyist, and after a planning and working on this, I'm proud to announce that on
July 9th, 2017 (Sunday) 2 PM to 6 PM
there will be officially a Tournament of power!
Here's how it'll go down.
8 Factions will go out across each other. One Faction Versus another at a time, no battles should take place in the waiting arena. Once one faction and another faction are rightly placed in the arena, there is a short countdown until it's an all out brawl between them. Once a Faction is taken down, It is disqualified and the winning Faction goes on to fight the next Faction. After a Faction Battle there is a 30 minute Intermission for the next Faction to ready up, if both Factions are ready the intermission will only be 5 minutes. Battles will last however it may take for both factions to finish.

Rules:
​
Only 5 members in each faction, and if you are short on members you can look for players without a faction or your faction isn't participating. Max is 5, Min is 2. Each Faction will be equipped with brave kit. Under no circumstances is members allowed to use perks by paid ranks or by anything outside given to them to fight. They are allowed to bring at max 5 Golden Apples (Regular, not enchanted) To a fight and if they use them all, they're allowed to get more during intermission. There may only be 8 Available spots to sign up for the Brawl and your Faction must meet the requirements to join said brawl. Alts are not allowed to be added for more players in a faction. All in game rules apply as well and if caught breaking them even by one player the whole Faction will be disqualified. No Flying. You may bring 3 Potions only if they are (Fire Resistance, Instant Health Only I, Strength Only I, Instant Damage Only I). Any Items outside of the ones given or allowed will be taken away, If used, will result in a Faction disqualification. Any subbed in Members will be treated as a regular member and when entering the subbed member should be in your Faction. Potions will be cleared once the Faction battle starts. No Custom Enchantments. No Hacking. Admins+ Will not be able to participate. No Bribing for players to leave other factions for your own. No Trash Talk. After using a potion/gapple you are not allowed to refill at all. No bribing Factions to throw matches.
After a battle is over you are not allowed to switch players.

Requirements:
Faction must have a balance over 200k showing that they've played for a long time. Factions may not be able to participate if Owner has received a Temp-Ban/Ban. Factions may only be added if approved or signed up by the owner or by a trusted member. Factions have to be prepared with players and should have at least 4 players in the faction (doesn't have to be online, Alts do not count). When you sign up you are not allowed to change your faction name until the event is over. Only 8 Factions may participate!
Rewards:
Winner:
Winner wins a total of 2.5 Million Dollars to their Faction.
2nd:
Wins a total of 900k to their Faction
3rd:
Kit Valiant for Each Member that fought online at win

Sign up Template:
Faction Name:
Faction Owner:
Your IGN:
Faction Members (Max 5):
Faction Balance:
Please PM Xyist on Discord (Xyist#5121) with this template to enter the tournament.
Thank you.
​
Hello!

Recently, it has come to our attention that we've had to come up with a new rule for wall generation. Regen walls are now being banned! This is due to the walls 1, causing lag, and 2, not working due to the Nether not working with these types of walls. Overall, this shouldn't change much, just the way in which factions are played and bases are played in the nether, and around the server in general.

We are very sorry for this inconvenience!

Thank you,
~Dawn
Hello, all!
We've had a rough, yet fun start to the season so far. Starting off with amazing support from the community, as well as an extreme amount of bug crushing and extra added features, we have been doing our hardest that we could to make sure everything and anything that was needed would be taken care of!
Now, as you are probably aware by playing the server has gone through many downhill battles. Whether from crashing to losing many core features randomly for about a minute, we have gone through it and fixed it all! With this being said, we will have a 1-day lockdown ( whitelist ) that will be in effect until 07/01/2017; 1 PM EST. Along with this, the hub server will be un-whitelisted about 30minutes to an hour prior to release. In the 1-day time that the server will be down, there will be a final bug squashing to get rid of almost all problems on the server.
(MCMMO, Balance, and Faction)Top information & prizes
This being said, we can't forget the prizes that were announced for FTop, Balance top as well as MCMMO top! These prizes will be gifted to you after being contacted shortly! Users that participated in our BETA Week and scored prizes by being number 1 will be listed below!
Faction [Gonslaves] Top 1: $125 Buycraft voucher
Faction [420] Top 2: $75 Buycraft voucher
Faction [911] Top 3: $35 Buycraft voucher
Balance Top 1: 'ImAnvy' $25 Buycraft voucher
MCMMO Top (power level): 'MinorLegato' $15 Buycraft voucher
For non-beta week top prizes, the
Keyboard Giveaway
Prize, as well as the $500 USD FTop giveaway still stands open.
Discord Giveaway
All users in
our Discord
will automatically be entered for a chance to win two of our highest ranks; Valiant & Epic. The ranks in this giveaway can be found
here
!
Giveaway Information & Rules​
-Giveaway Drawing occurs July 4th
-Staff may and will not be entered in the giveaway
-Winners will be PM'ed who won
-Only requirement: Be in the Discord, and be active
— — — — — — — — — — — — — — — — — — — — — — — — — — — — — — — — — — — — — — — — — —
Extra Reset Information
With this release, it holds a total and complete reset of the server. All balances, homes and most in-game items will be reset to default, as when you first logged onto the server. - The only thing not being reset is the in-game ranks you bought from the store. If you do have any troubles with not having your ranks, however, please make sure to contact me directly via PM on the forums or discord!
The season, as already previously stated in many other releases and in-game, will last for 2 months. The season will stay the whole time in which the Voting Top raffle is active to allow players to participate.
For an exact release data/timer, please click
here
!
Bugs squashed

Over the time of this week, as well as whitelisted day, we have completed an extreme amount of different bugs that have been lurking since the start of the week. Some of the more important bugs that have been fixed will be listed:
Borders & Faction Claims

All issues involving Borders and Faction claims have been resolved. Whether it is being from the borders not 100% working, thus letting players the ability to get out of the border, or players not being able to place in their own claim; it's been fixed.

Scoreboard & Other lists

Our scoreboard, as well as all lists like /staff have been fixed. If it's from the scoreboard not being up-to-date and accurate, or not showing up, it has been fixed. This includes lists such as /staff which previously didn't show the correct link or prefix.

Store Purchases

With the many previous bugs revolving around the online store, we have finally fixed them all! This includes missing packages, to users not getting their purchased goods.

KoTH's

As seen in the first 3 days of release, KoTH's didn't work. Between it not registering that players were standing in it and capping, to it just not working and saying announcements in chat at all, it has been all fixed.

Permissions & Ranks

All issues with permissions for members as well as missing features for ranks have been addressed and fixed. Things such as ranks not having or missing correct features, or just overall broken things with ranks and permissions have been completely fixed!
Many other bugs have been fixed, just not listed. I can assure you that many, many other bugs were fixed!
On the other hand, make sure to have an amazing time on release tomorrow! Hopefully I see you there!
~Dawn
​
Greetings all!
It's time, and we are ready to release! After hours and hours of work non-stop, we have finished an amazing server! We have pushed to provide custom plugins, features, experiences and more! All staff has been trying their hardest to give all players the best time they could have playing, and personally, I think that we have done it!
— — — — — — — — — — — — — — — — — — — — — — — — — — — — — — — — — — — — — — — — — —
Now, I think it is the time that we get into the release!
What time does the server release?
The server officially releases its Factions gamemode @ Sunday, 2 pm EST! Along with this, you will be able to join the hub before the release to talk with the community and maybe make some factions recruits while you are there! To see a timer for release, click here!
Server Trailer
Before we go into detail on the server, showing you all it's amazing features, plugins and more, we thought that we may just show you our trailer to start it all off
Raiding & Season length
This amazing season will be planned to last for about 2 months, possibly a bit more for the keyboard giveaway to end. On the other hand, raiding will be open a week after the release of the server.
What does the server have to offer?
With the release of RKO, you should be expecting
a lot
. As already stated, the staff team has been working non-stop each day since the Network has been announced. With that in mind, we have been able to bring a huge verity of different features, experiences, and overall fun! With cannon's, custom enchantments and more, we know you'll have fun! As I'm sure you want to know some of the things that RKO 1.0 will bring, I will give you a little list. But the rest you will have to experience on the server
—Custom Enchantments:
We don't have one of your normal, typical custom enchantments plugins. We have custom enchantments, with features that are completely new! These can all be accessed in-game by doing the command '/enchanter'! If you would like to see a list of the enchantments along with what they do, and what tier they are, click the spoiler below!
*Note* All enchantments are ordered by 4 tiers going from worst, to best: Elder, Ancient, Reversed and Legendary.
————— Custom Enchantments List —————
—— Elder Enchantments ——
Toxic
- Poisons all enemies in your way
Amphibious
- Gives you permanent water breathing
Furnace
- Auto-smelts ores after being mined
Exile
- Adds extra knockback to an opponent, up to 2 blocks per level
Haste
- Gives you permanent haste
Nocturnal
- Give you permanent Night Vision
Thickened
- Tools have a chance to regain durability when used
—— Ancient Enchantments ——
Blastproof
- Become immune to TNT
Naturist
- Spawns wolves after hitting enemies *woof*
Plagued
- Spawns supercharged creepers to attack enemies when at low health
Medic
- Increases damage done to you while healing your team slowly. *Healing only works if you are hitting or doing damage to others*
Chainmail
- Gives you permanent resistance
Charged
- Chance to smite opponents on hit
Charmed
- Chance to inflict weakness to opponents on hit
Epic
- Deals bonus damage when opponent is above 4 HP
Execution
- Deals bonus damage when opponent is below 4 HP
Hellspawn
- Sets enemies on fire when hit
Heroic
- Players take less damage when holding a sword
Infernal
- Gives players permeant fire resistance
Martydom
- Spawns lit TNT at location where the player(s) who killed you are
Saturated
- Gives players permeant saturation
Scholar
- Gives players move experience
Trueshot
- Increases damage against opponents when using a bow
—— Reversed Enchantments ——
Immune
- Immunity to Weakness, Poison & Wither
Void
- Chance to remove a Custom Enchantment from another enemy while hitting them
Tipped
- Inflicts Poison to enemies when shot with arrows
Clarity
- Blindness Immunity
Baited
- Arrows have a chance to spawn silverfish on impact
Blinding -
Attacks cause blinding on attack
Brisk
- Chance to strike twice per hit
Guardian Angle
- Chance to spawn a friendly iron golem when hit
Heavy
- Reduces damage taken while slowing down your movement speed by 5%
Longsword
- Deals increased damage to players if they are holding a bow
Nimble
- Chance to dodge opponents attacks
Silk
- Take less damage from bows
Weighted
- Gives strength 2, with a side-effect of mining fatigue.
—— Legendary Enchantments ——
Divine grace
- If you are low on health, you have a chance to be flown into the air to slowly recover/escape the battle
Camouflage
- Gives invisibility until put into combat
Agility
- Gives speed based on level
Boosted
- Gives bonus hearts
Conviction
- More experience gained per level
Slayer
- Chance to double mob drops based on level
————— Have fun with them
—————
​
—KoTH's, Spawn and Custom Worlds:
We are very happy to talk about our KoTH's, Spawn and Custom worlds! Here I will go full-depth into each one, explaining all the in's and out's of each.
Custom Worlds:

We have setup 3 custom worlds for you all to explore! Among these three worlds, we have a completely custom Warzone along with a flat End & Nether. Check them out in the spoilers below!
With an epic warzone themed around fantasy, we are almost certain that you will find yourself in battle after battle, fighting to the top in the warzone. With things like Giant Mushrooms, designs in hills and more! Pictures: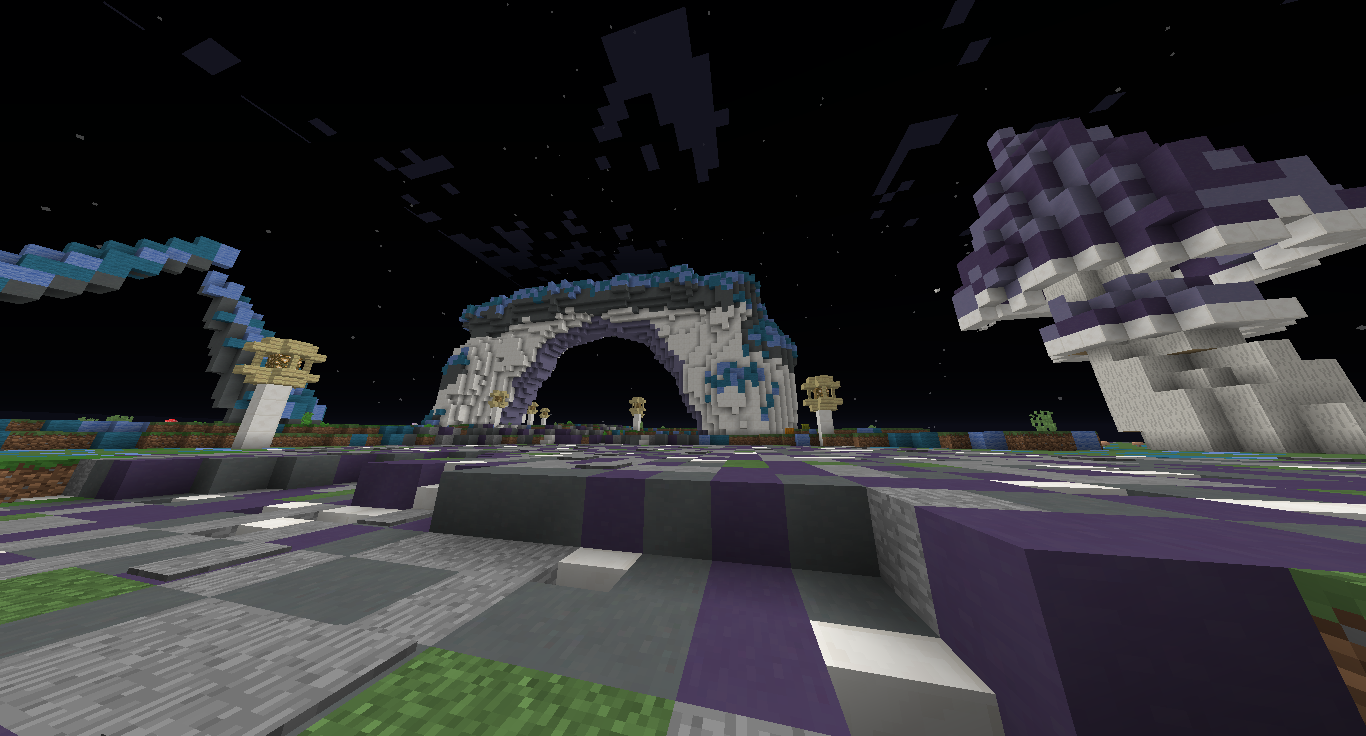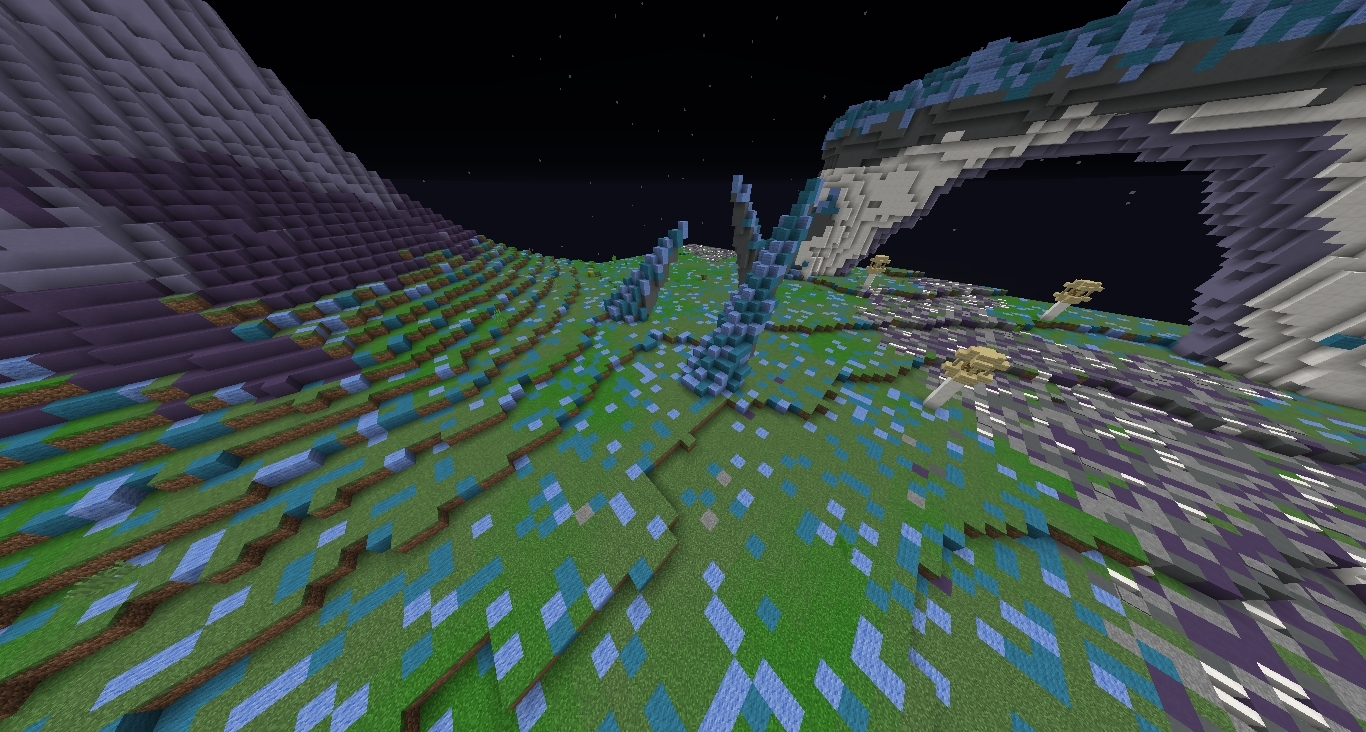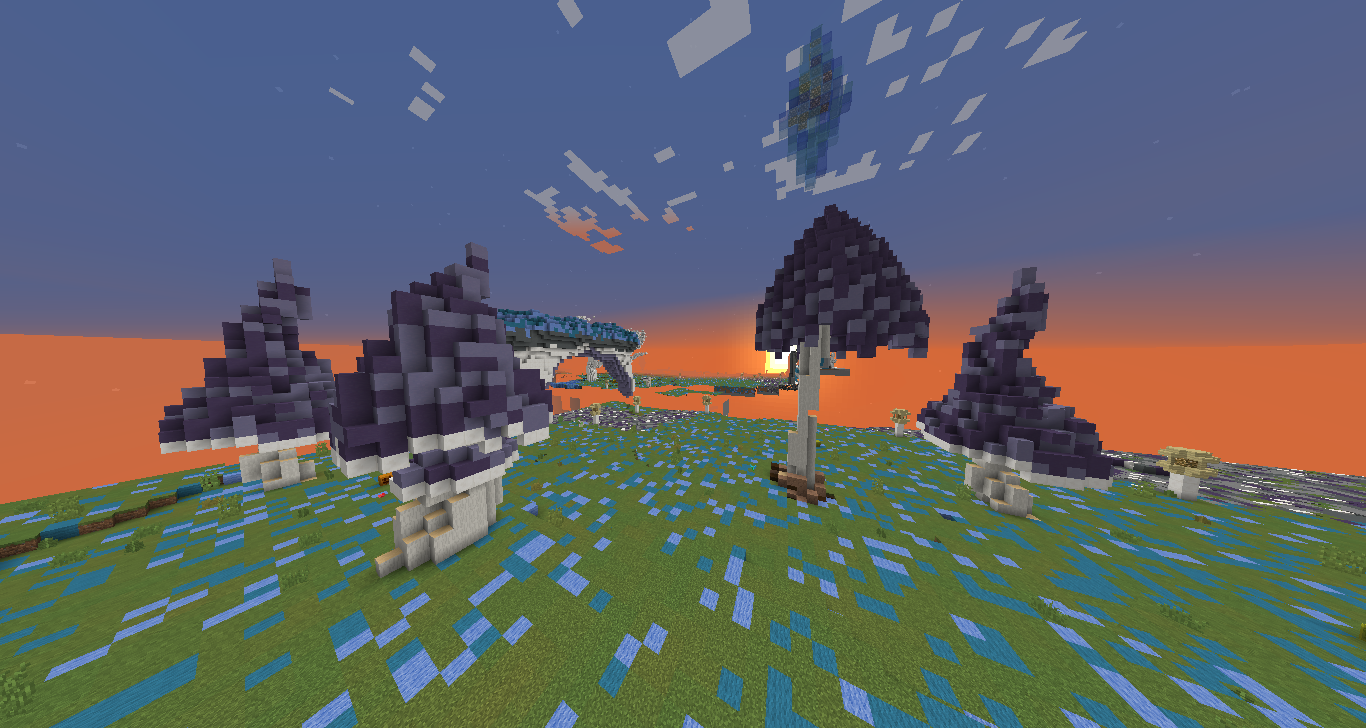 With different sized flat warzones, complete with amazing looking spawns, you can battle to the death and build up your factions! *Note - the End & Nether will open on release* Pictures:
Custom End: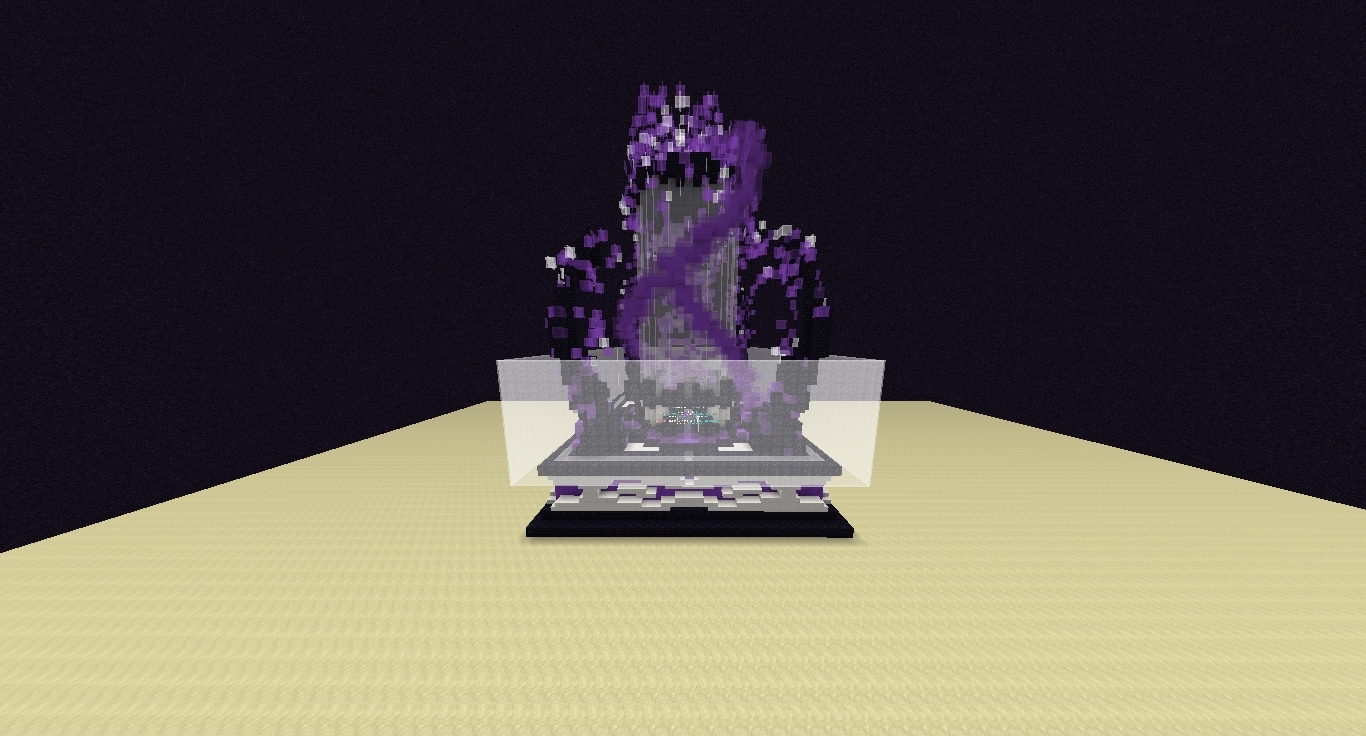 Custom Nether: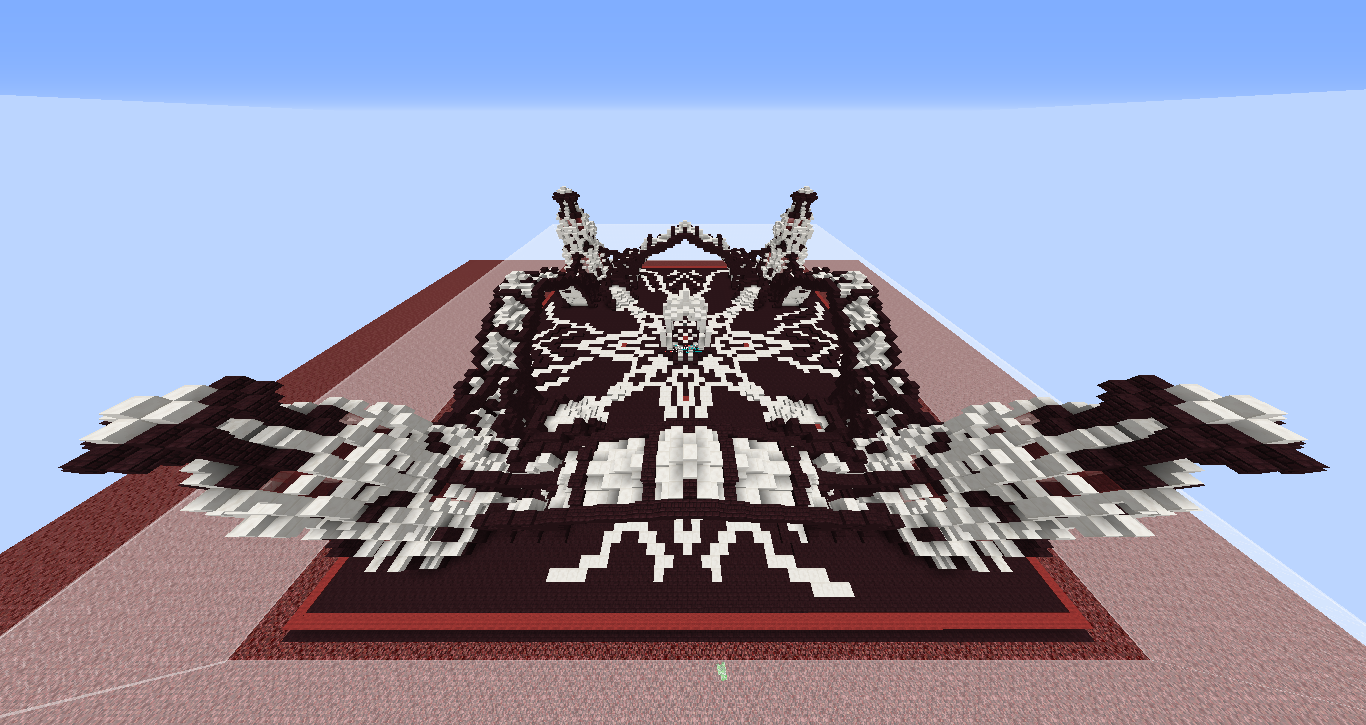 KoTH's: We have 2 beautifully built and setup KoTH's! Ready for you to come and fend off, claiming the top, and best rewards from your enemies and you try battling them off in an extreme battle! Check the spoiler to see them!
With amazing KoTH's, built only by the top tier builders, we know you will be there battle after battle, fighting to claim all KoTH rewards and sweep the Factions Top reward for anyone in your way! Pictures:
Red KoTH: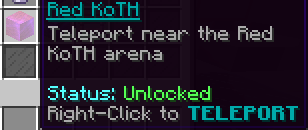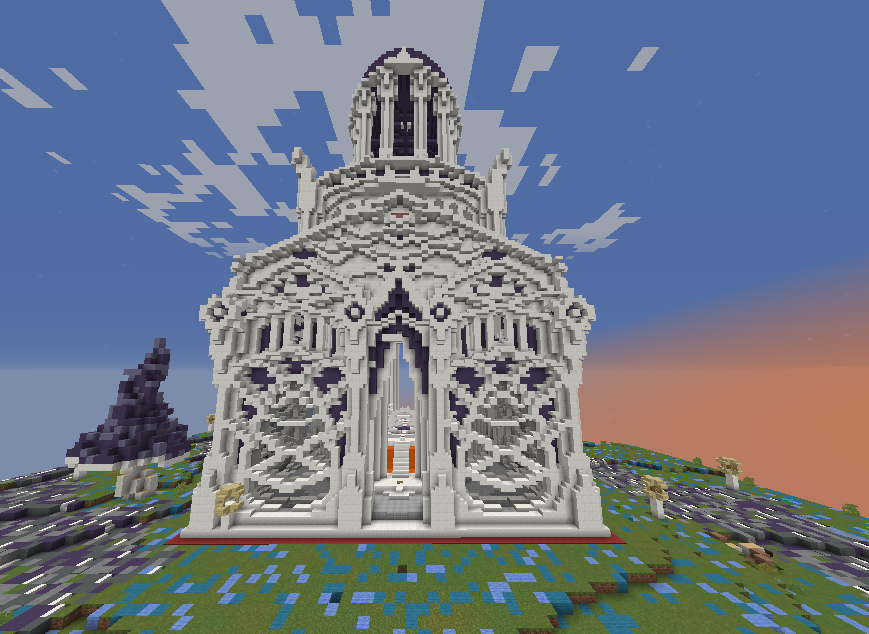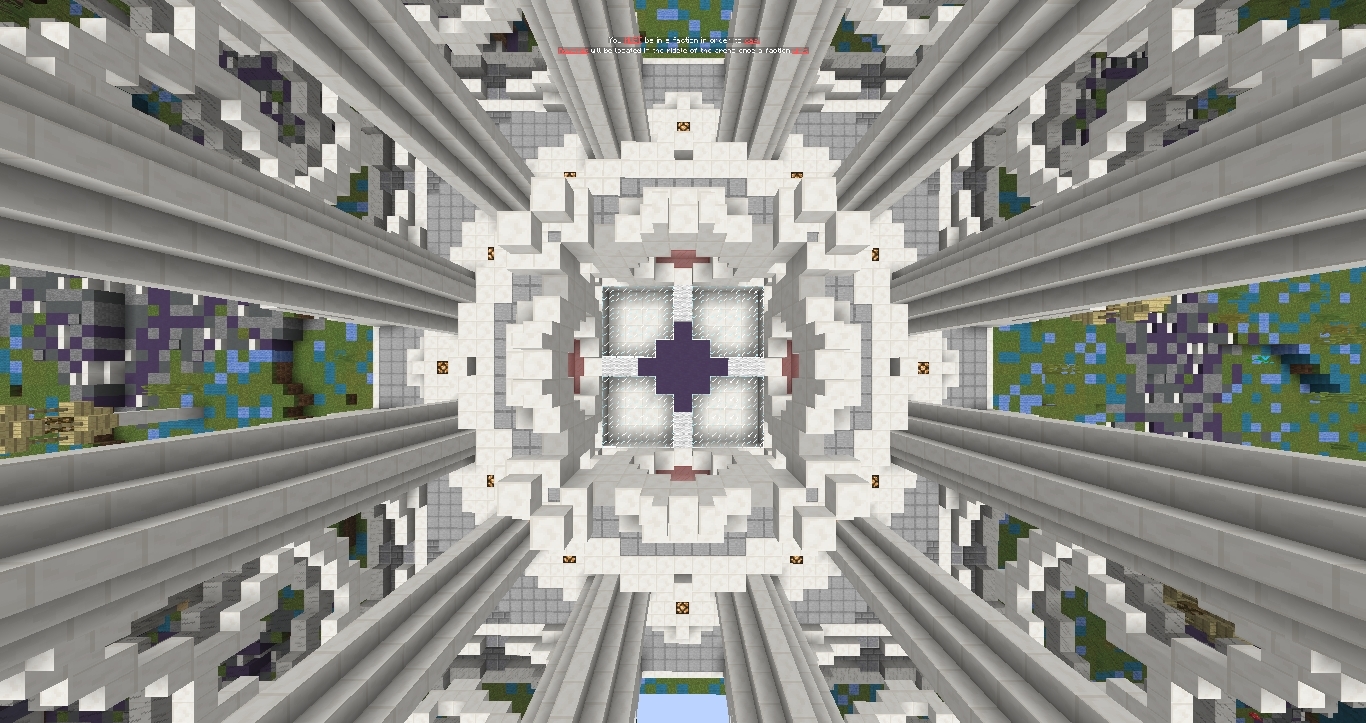 Swing KoTH: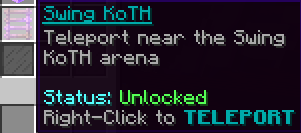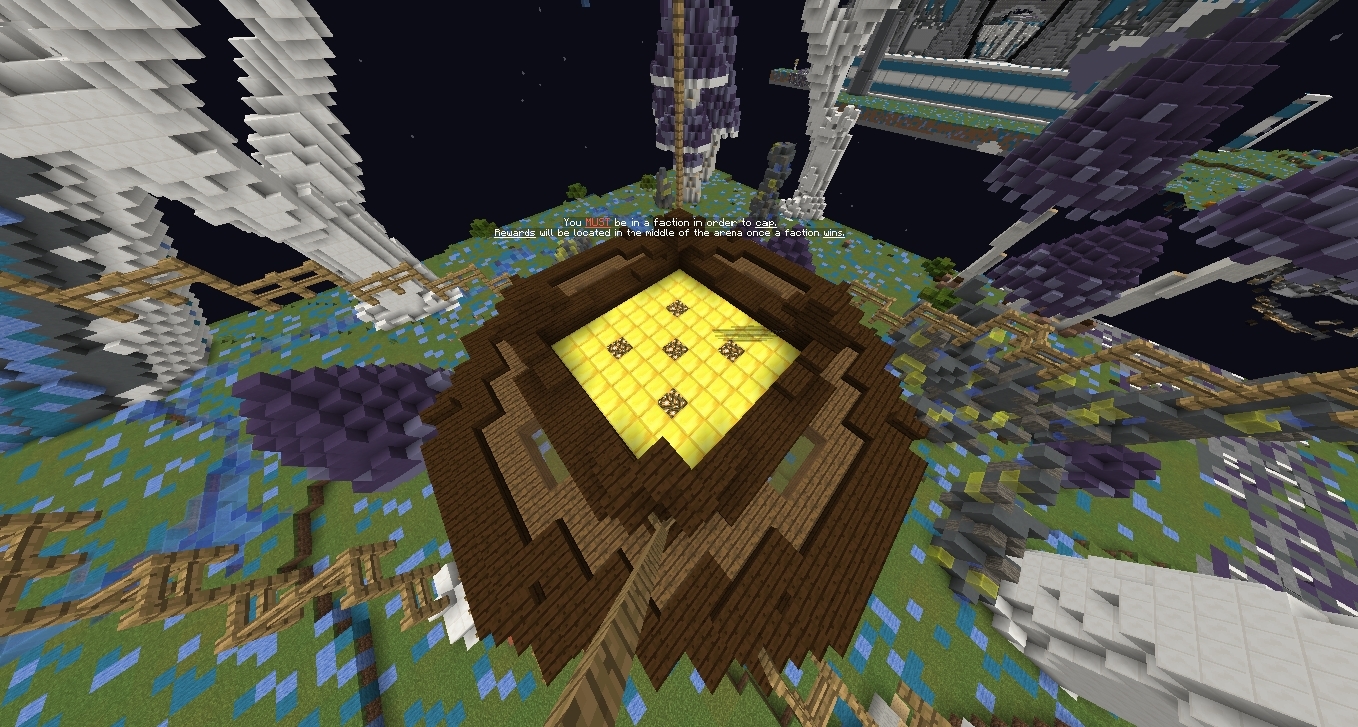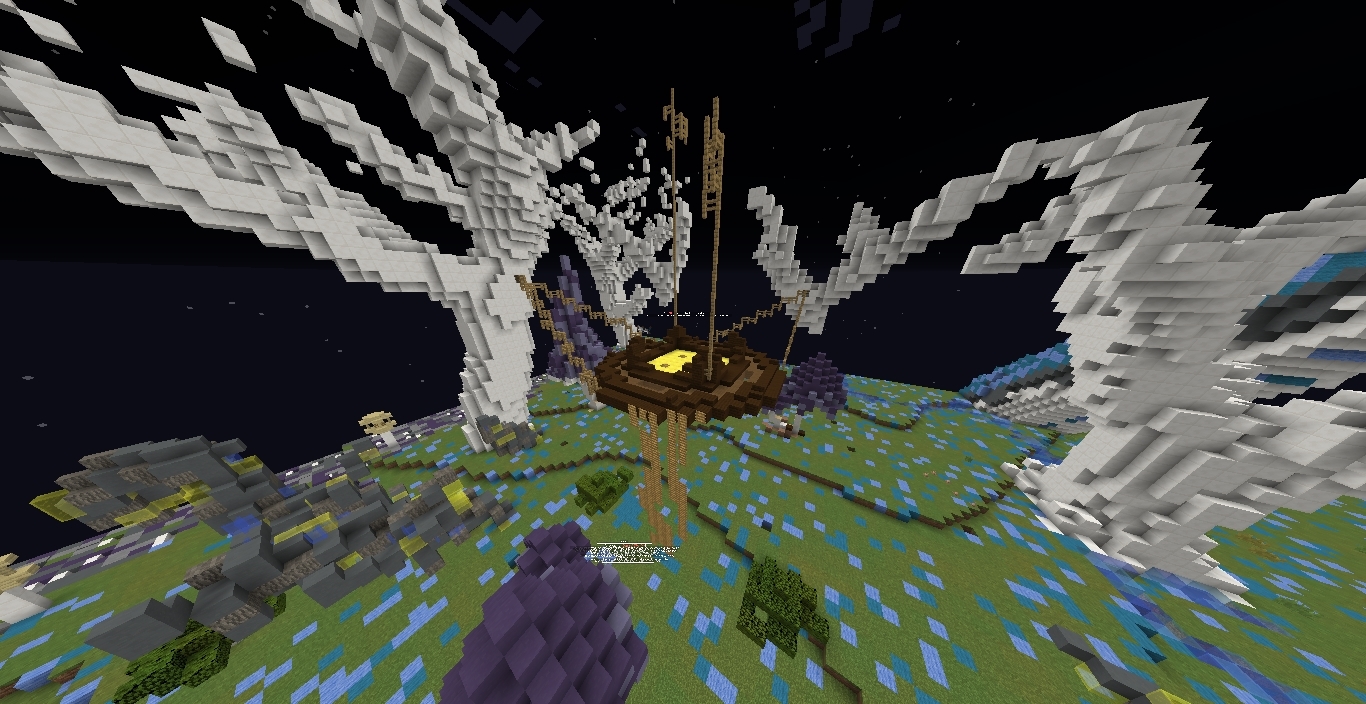 ​
Spawn: Our spawn is huge! Complete with all needed items and features that a factions spawn should have. With a lot of space, very good looks, high-detail everything, and more, it's sure to make the release 10x better! Click the spoiler to see pictures of the spawn!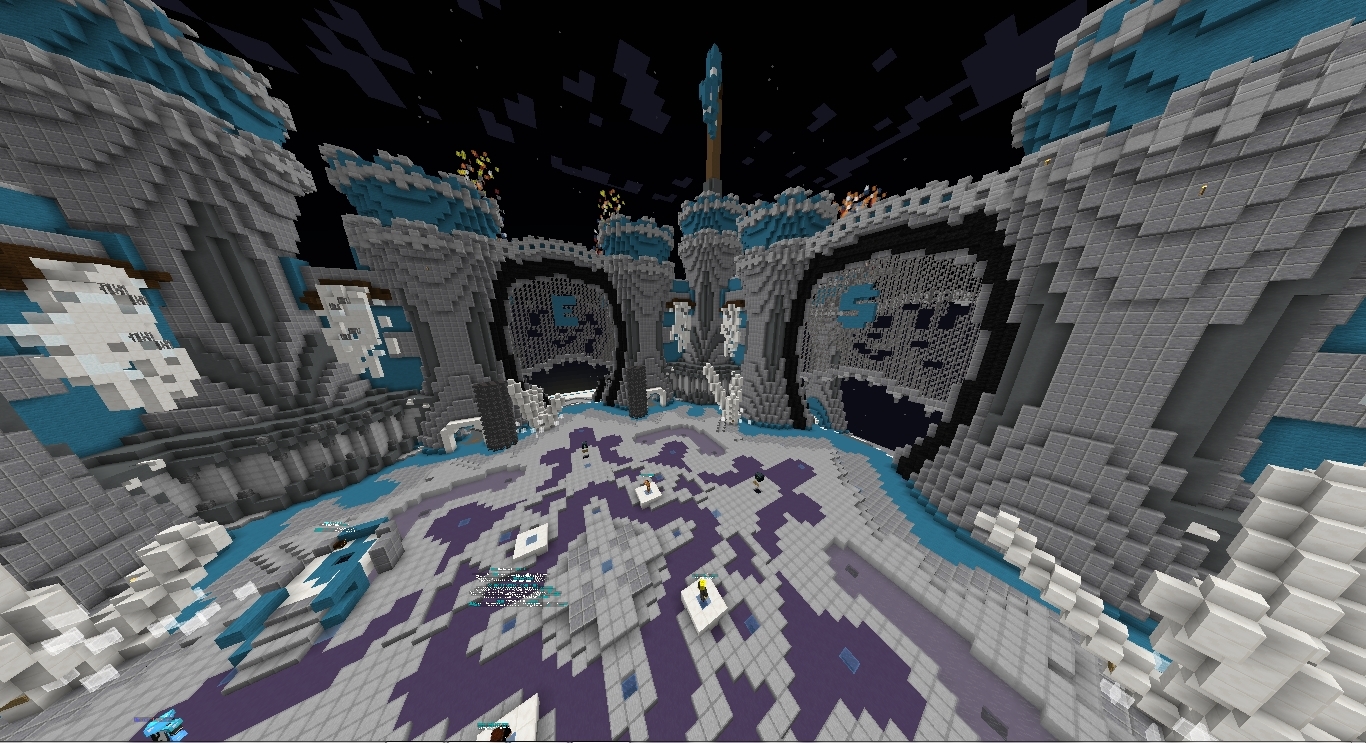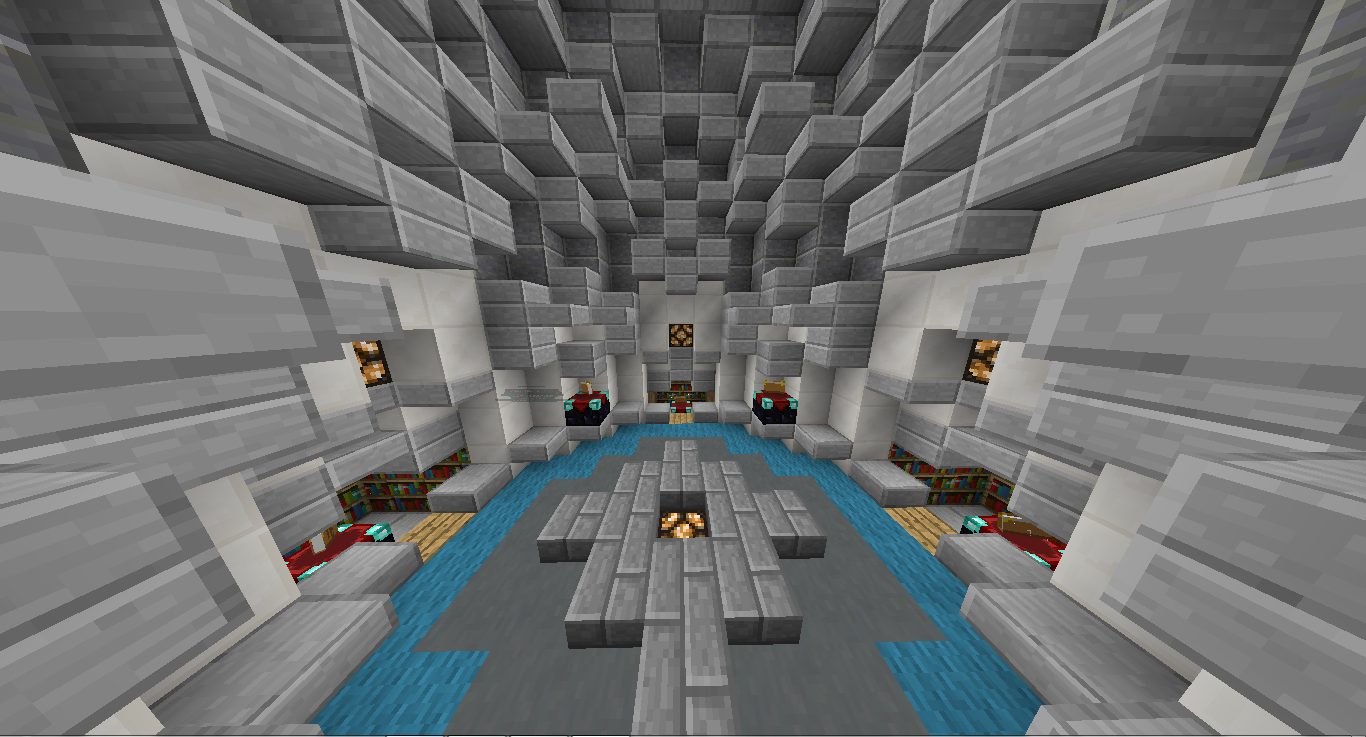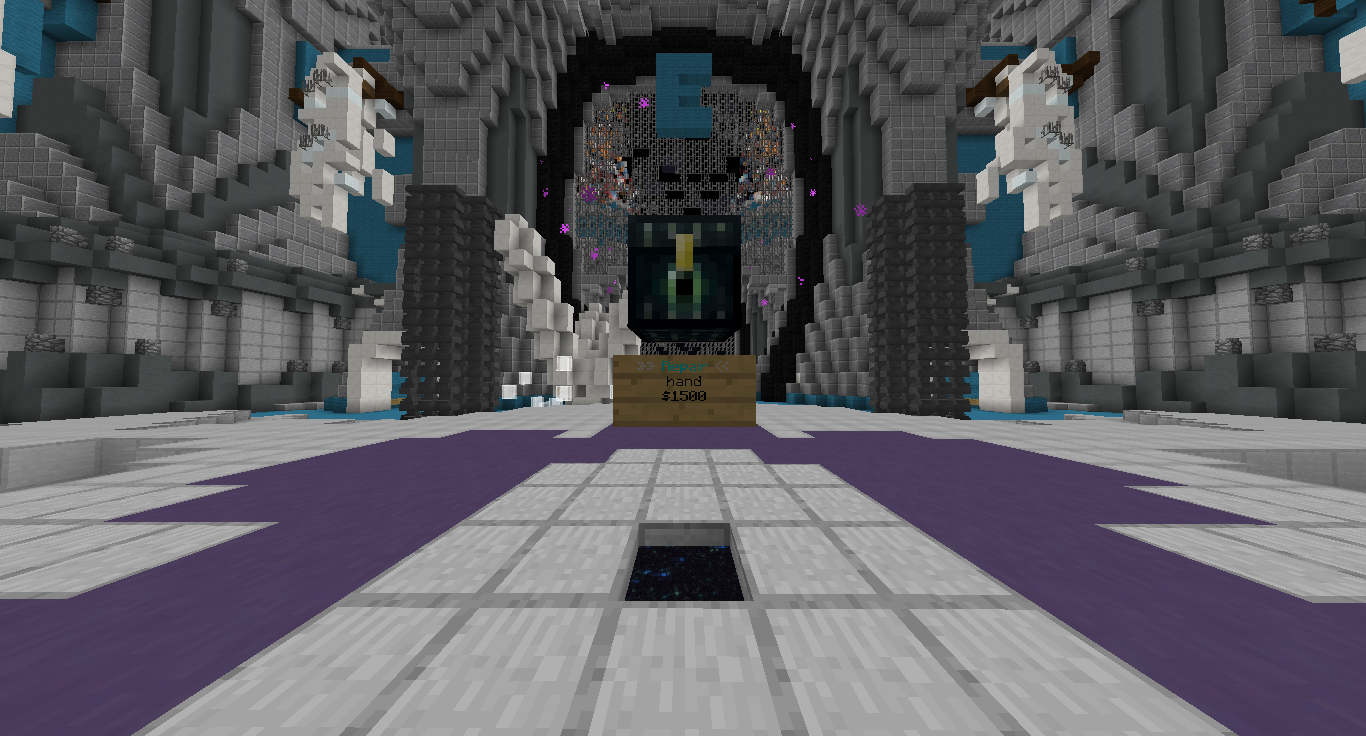 —Gen Buckets, VoidChests & Factions Panel:
As we're not your typical server, with normal plugins, not many custom features and such, we strive for only the best. We don't have those normal, bad plugins. We have many custom plugins, like Gen Buckets, VoidChests and our Factions Panel! Here, we'll explain them to you!
​
Gen Buckets: Gen buckets is a custom made plugin by our amazing developers, grants players the ability to do the in-game command '/gen'. This allows you to do an easy-access gen bucket, shown here:
VoidChests: VoidChests is an extremely cool feature, also being made by our devs, it's an extremely useful command/feature that you can heavily use to your advantage. In short, it's a command granting players the ability to sell all items in the chest instantly. This is be done by purchasing it on the online store. The in-game chest is as shown here:
Factions Panel: Finally, we have the Factions Panel! By doing the in-game command '/Panel' you are able to see a spectacular panel, once again made by our amazing devs, that allows you to see all factions data, such as: Basic Factions Information ( The Leader, Power and Factions Desc ), A Factions Guide, your role in the faction ( Role, Title & Chat Tag ), Amount of Claims, Chat Settings, to change from ally, fac and main chat through the GUI, Total & online members, fac home tp option & cords, then finally, an option to leave your factions from the GUI. -- This all is shown here:
—Shop GUI & Shockwave Pickaxes:
What faction server could be complete without a Shockwave Pick & a Shop GUI? None. Just none. Because of this, we're introducing a new Shop GUI, as well as a Shockwave Pickaxe. Open the spoilers below to find out more! *Prices are included*

The Shop accessible from the in-game command '/shop'. This shop includes everything and anything that you need. From a spawner shop to a farming shop there's everything. Look below to see what you can get: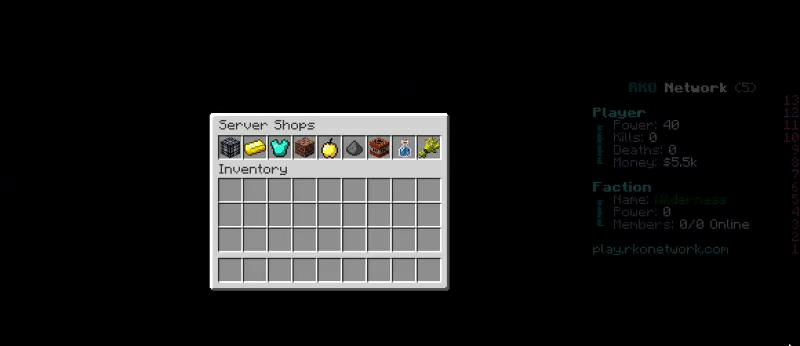 Shop prices vary from each item, depending on how useful or rare the item is, you may need to farm up some cash to purchase your needed items. Here, I will list out most items prices that are essential to factions. And non-needed, or not as essential items will not be listed, although you can check out item prices in-game upon release!
——Spawner Prices——
Villager - $10,000,000
Magma Cube - $5,000,000
Mushroom Cow - $3,500,000
Iron Golem - $2,500,000
Creeper - $1,000,000
Blaze - $450,000
Witch - $200,000
Skeleton - $55,000
Zombie - $50,000
Spider - $35,000
Cow - $10,000
Pig - $10,000
Sheep - $10,000
Chicken - $5,000
——Blocks——
64 Obsidian:
-Buy: $950
-Sell: $350
64 Sponge:
-Buy: $5,000
64 Glowstone:
-Buy: $450
-Sell: $160
TNT:
-Buy: $6,000
Golden Enchanted Gapples:
-Buy: 5,000
​
The Shockwave Pick is a Pick that's been around for a while, however, any factions server can't be without it. This Pick grants users the ability to get a Golden Pick, with Efficiency V & a 5x5 Mining area which makes it extremely useful when creating, or raiding other people's bases! This item is only obtainable by either the RKO Crate in-game or by purchasing it from the online store or by clicking
here
! To see what the shockwave looks like, look below: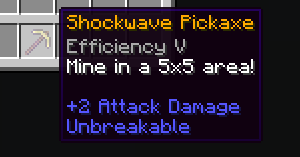 — — — — — — — — — — — — — — — — — — — — — — — — — — — — — — — — — — — — — — — — — —
​
I can't wait to see ALL of you on the server, it's going to be amazing! If you have any questions or concerns regarding the server, or release, feel free to PM me
Have an amazing time on the RKO Network,
~Dawn
— — — — — — — — — — — — — — — — — — — — — — — — — — — — — — — — — — — — — — — — — —
RKO Network Server IP: play.RKONetwork.com
RKO Network Store: buy.rkonetwork.com
RKO Network Twitter @
https://twitter.com/networkrko